Automatic Adult Diaper Machine
Brand :YITAI
Product origin :FUJIAN,CHINA
Delivery time :180 DAYS
Supply capacity :20-30 SETS PER YEAR
Automatic Adult Diaper Machine, main production line drive by servo motor, raw material shafts drive by frenquency motor. Raw material auto unwinding and splicing, when raw material ending and breaking, auto detecting and alarm. Equiped with visual inspection system can inspect the stain of the product ,ect.
Automatic Adult Diaper Machine
---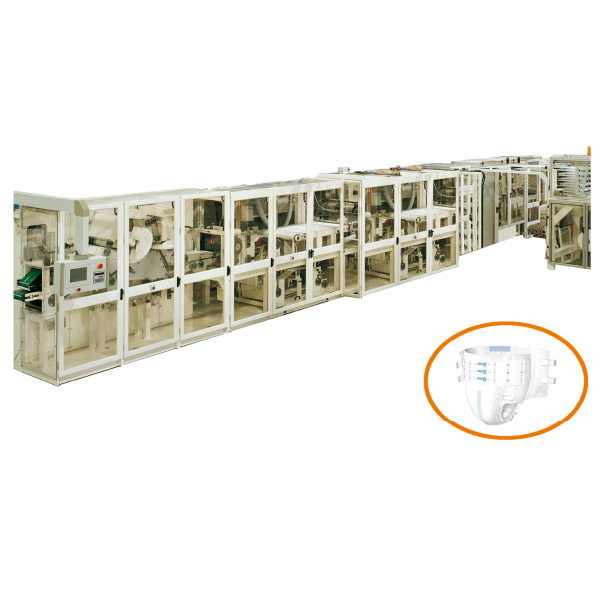 ---
Main Technical Parameters
| | |
| --- | --- |
| Power supply | 380V/50HZ |
| Power consumption | 350KW approximately (excluding hot melt adhesive machine and air compressor) |
| Raw material layout | Absorption sheet on top and laminated film on bottom |
| Designed speed | 300pcs/min |
| Stable production speed | 250pcs/min |
| Qualified rate | ≥97%(excluding defectives from hot melt and spliced) |
| Efficiency | ≥85% |
| Machine space | L40m×W9m×H4m (for reference only) |
| Weight | 115Tons Approximately |
| Machine direction | To be defined by the buyer |
| Machine color | To be defined by the buyer |
Main structural device
Cell mill (treated and untreated pulp is ok)

Suction fan

Drum forming

SAP applying device

Core compacting device

Elastic waist applying device

Elastic unwinding device

Cuff embossing device

Four ear tape applying device

S cutting hook applying device

Frontal tape applying device

Side-tape applying device

R cutting device

Final cutting device

Final folding device

Waste rejecting device

Safety door

Stacker



Main Features
1. Touch screen adopted for man-machine conversation
2. Servo motor adopted for machine drive & PLC control
3. SAP automatic quantitative applied
4. Active unwinding, constant tension control and auto splicing are adopted for raw material
5. Auto detecting & alarm for material ending or breaking, auto reject for material splices.
6. Size can be adjusted with machine non-stop
7. Product auto counting and stacking
Raw Material
| | |
| --- | --- |
| Structure | Raw material |
| Stand cuff | Hydrophobic N.W. |
| Stand cuff elastics | Elastics for cuffs |
| Top sheet | Hydrophilic N.W. |
| ADL | Acquisition layer |
| Upper wrapping paper | Upper tissue paper |
| Small fluff core | Small fluff +SAP |
| Big fluff core | Big fluff + SAP |
| Lower wrapping paper | Lower tissue |
| Leg elastics | elastics for leg |
| Fastening tapes | Magic tape or pp tape |
| Elastic waistband | N.W. +elastics |
| Back sheet | PE film or clothlike |
| Frontal tape | Magic tape or pp tape |
Get the latest price? We'll respond as soon as possible(within 12 hours)